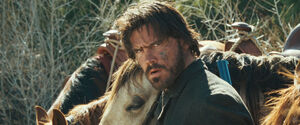 Tom Chaney is played by Jeff Corey in the 1969 film adaption of True Grit, and by Josh Brolin in the the 2010 version.
Chaney is the killer of Mattie Ross's father, who is being hunted down by Reuben J. Cogburn and law enforcement official La Boeuf.
Character Biography
Edit
Tom Chaney is a cunning criminal who killed Mattie Ross's father after he had lost all of his winnings gambling. Chaney shot Frank Ross through the head instantly killing him after a brief drunken argument. Afterwards he stole his horse and money along with two California gold pieces. He fled into the wilderness, later joining and doing several jobs with Luck Ned Pepper's gang. Chaney's weapon is a Henry Rifle with a distinctive rope sling.
In the climax of the film he is killed by Mattie Ross.
Prior to the events of the film he worked as a hired hand for Frank Ross at the family farm in Yell County, Arkansas.