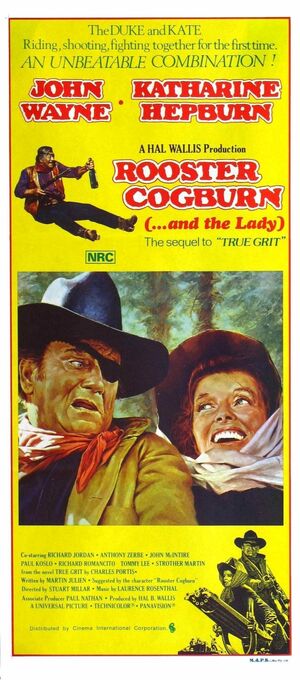 Rooster Cogburn is the sequel to the classic western film True Grit. It stars John Wayne, reprising his role as U.S. Marshal Reuben J. 'Rooster' Cogburn, and Katharine Hepburn as Eula Goodnight. It was directed by Stuart Millar and released in 1975.
Striped of his badge, aging U.S. Marshal Rooster Cogburn is given a chance to sober up and redeem himself after a village in Indian Territory is taken over by a gang or ruthless criminals. The outlaws, led by Hawk and Breed have stolen a shipment of nitroglycerin making them even more formidable. Spinster, Eula Goodnight, convinces Cogburn to track down the criminals who murdered her father, the elderly town preacher, Reverend George Goodnight. Cogburn becomes an unwilling partner in her endeavor.
Anthony Zerbe as Breed
Richard Jordan as Hawk
John McIntire as Judge Parker
Paul Koslo as Luke
Jack Colvin as Red
Jon Lormer as George Goodnight
Trailer 1
Edit
Ad blocker interference detected!
Wikia is a free-to-use site that makes money from advertising. We have a modified experience for viewers using ad blockers

Wikia is not accessible if you've made further modifications. Remove the custom ad blocker rule(s) and the page will load as expected.