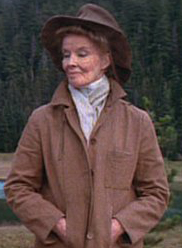 Eula goodnight is played by Katharine Hepburn in Rooster Cogburn, the 1975 sequel to the classic True Grit (1969).
Eula employs Rooster Cogburn - once again played by John Wayne himself - to hunt down the men who killed her father, the Reverend George Goodnight.
Character Biography
Edit
click edit to add your own now!
Ad blocker interference detected!
Wikia is a free-to-use site that makes money from advertising. We have a modified experience for viewers using ad blockers

Wikia is not accessible if you've made further modifications. Remove the custom ad blocker rule(s) and the page will load as expected.